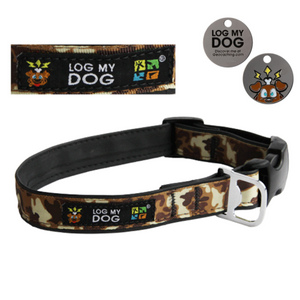 Log My Dog Collar - Camo Brown - Small
Created by our friends at Cycle Dog in Portland, Oregon, These high quality dog collars are made from reclaimed inner tubes and feature a Quick-Release Buckle and a unique "Pup Top" Bottle Opener leash attachment.
Perfect for active Geocaching dogs offering easy adjustability for a great fit and camo design for added stealth.
Quick drying bike inner tube collars are great for water dogs.
Machine and dishwasher safe for easy cleaning.
Available in sizes small, medium and large.
(Please note: The pup top opener is not available on the small sized collar)
Each log My Dog Collar also features a trackable dog tag so your best friend can be discovered at events and out on the trail.
Sizing:Small - 6" - 12"
Medium - 12" - 21"
Large - 18" - 27"