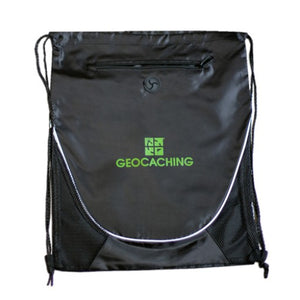 Explorer Cinch Bag
Looking for a better way to cinch up your SWAG?
How about the Geocaching Explorer Cinch Bag! The cinch bag works as a kid's back back or a handy over the shoulder sack for any aged geocacher.
The bag measures about 14 inches across and 16 inches from top to bottom. It has a full open cinch-able top, and breathable mesh on the back to air out your geocaching gear.
The cinch bag also features a handy zip pocket on the back, with an ear-bud port so you can plug in and go!