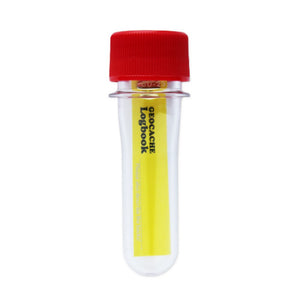 Small PET geocache container with Rotolog 120
It's a PET container! Polyethylene terephthalate that is.
This is a preform container that could be melted and formed into a water bottle. Left as is, its works much better as a geocache! Imported from Germany, these containers make for great hides in that they are completely waterproof and extremely durable. On top of that, if you ever decide to switch it out, its recyclable!
This small PET container comes with the Rotolog 120. It features two-sided pages, and room for 120 logs.
This container is ready to hide! Dimensions: Approximately 3 7/8 inches long with a 1 3/8 inch diameter lid.