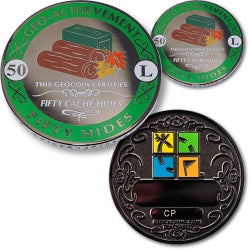 50 Hides Geo-Achievement Set
This elegant Geo-Achievement geocoin and pin set is plated in polished black nickel resembling stealth. It is perfect for awarding to your friends or family at their geocaching achievements. Use the included matching pin to wear at events or while caching to show off your cache hides achievement; go ahead, you earned it!
Collect the entire set and have all the icons show in your Geocaching.com trackables page.
One set includes one coin and one pin.
Coin measures 1.75" in diameter.Pin measures 1" in diameter.
Both are plated in polished black nickel.
Durable hard enamel colours on the front and back.
Custom engraving area on the coin backside that fits up to 2 lines of etching.
Trackable on Geocaching.com.
An icon specific to this coin will show on your Geocaching.com profile when you log the tracking number.