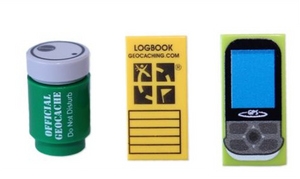 Custom Geocaching Accessory Brick 3-Pack
Use these fun little accessories to dress up your geocaching scene or as premium trade items! All three items are Shop Geocaching exclusives, and feature the round canister mini brick as well as the GPS and Logbook tiles.
These items are not trackable.
Dimensions:
Round Canister: 0.5 inches with a diameter of 0.3125.
GPS Tile: 0.625 inches x 0.3125 inches.
Logbook Tile: 0.625 inches x 0.3125 inches.

Please note: This is not a LEGO® product. These are re-purposed LEGO® elements and other elements that have been repackaged or altered from their original form. LEGO is a trademark of The LEGO Group, which does not sponsor or endorse this product. The LEGO Group is not liable for any loss, injury or damage arising from the use or misuse of this product. All Rights Reserved.
Choking Hazard:  individual building bricks may pose a choking hazard to children under 6 years of age.