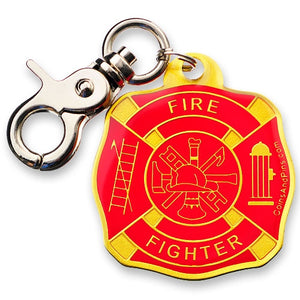 Firefighter Accountability Tag - Yellow-Red
NOTE: This item is not trackable.
Firefighter accountability tags are an important aspect of safety to account for all personnel on scene. This tag is made of durable aluminium and has a clear epoxy coating over the Maltese cross for added protection. It also has a very durable claw clip that will not come loose during critical moments.The Maltese cross is displayed prominently on the front side to show firefighter pride.
The backside is blank so that you can have your own text engraved on it.
These tags also make great souvenir items to give to friends and family.
Diameter: approx. 2 inches.