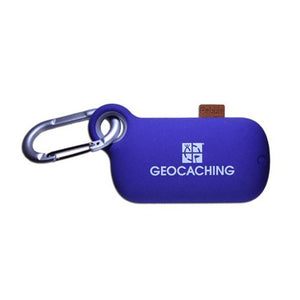 Geocaching 5000 mAh Portable Charger- Blue
Prepare to charge!
This 5000 mAh Portable Charger from Pebble® features the geocaching logo.

A charging cord and carabiner are included.

Charging levels can vary, but it is estimated that it will charge a standard cell phone two full times on one charge.

Dimensions: Approximately: 4.5 x 2.5 x 1 inches
A couple of things we know about geocaching: It can provide an adventure at any location and it tends to drain our batteries. With that in mind, we went searching for a charger that can go with you to any location!
This Pebble® brand charger is what we think of when we want to bring more power to geocaching. It is rugged, durable, insulated (so it won't light your bag on fire), has a carabiner to attach to your gear and has the official Geocaching logo!

This handy charger will become an essential part of your TOTT kit. It charges with and will charge any USB device. It will give your cell phone two extra charges when your geocaching adventure has you otherwise unplugged. How many more caches can you find with all that extra power?