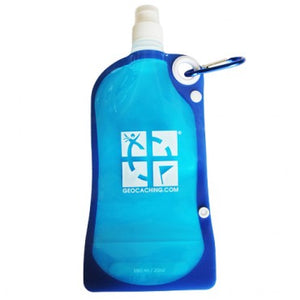 Packable 20oz Water Bottle
This collapsible reusable water bottle is made by Sip N' Go and it makes carrying a reusable water bottle easier and more convenient than ever before.
Its durable snaps allow it to fold neat and small enough to fit in your pack or even your pocket.
It's lightweight, easy to drink from, and features a comfortable carrying ring and carabiner. Sip N' Go is freezable too, so your drink stays colder, longer. You can even write your name on it, so your bottles never get mixed up.
Sip N' Go is free from harmful chemicals like BPA. Made of extra strong FDA approved material, Sip N' Go is top rack dishwasher safe, so it's hygienic and easy to clean.
Lightweight- Fits in your pocket- Perfect for Geocaching- BPA free and FDA approved- Freezable- Easy to carry- Durable snaps make it stay folded- Good for the environment- Top rack dishwasher safe