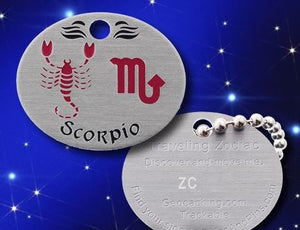 Travel Zodiac - Scorpio
The Traveling Zodiac geocoin series is a low cost travel tag series.
Each coin is Geocaching.com trackable, and each coin in the series has its own icon. Collect all twelve to get all the icons.
These coins are made large enough to be seen in caches, but yet small enough to fit into 35mm geocache containers.
Each coin comes with a chain to attach to your favourite traveling item.
Measures 33mm wide
Soft enamel colours
Aluminum metal Includes a 3.5" long chain
Trackable on Geocaching.com