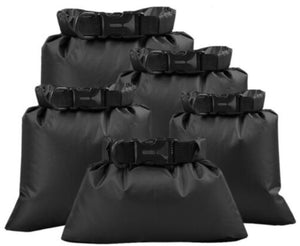 Waterproof Dry Bag - BLACK - Various Sizes
Made with ripstop fabric and coated in silicone oil  to ensure the bag is waterproof, these bags are designed to keep the contents dry.
Each bag has a roll-top closure to ensure watertightness (Is that a word?)
As well as protecting geocaches, these bags can also be used for fishing, kayaking , sailing etc.

High quality plastic fasteners
Material: 190T polyester taffeta/ripstop nylon
Available sizes: (please allow accuracy +/- 1cm)

20cm x 20cm
30cm x 24cm
36cm x 24cm
39cm x 30cm